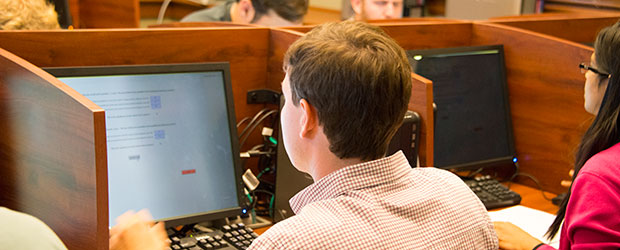 Research
---
Publications
Interis, M.G., C. Xu, D.R. Petrolia, and K.T. Coatney. "Examining Unconditional Preference Revelation in Choice Experiments: A Voting Game Approach." Journal of Environmental Economics and Policy (accepted 2015).
Nagler, A.M., D.J. Menkhaus, C.T. Bastian, M.D. Ehmke, and K.T. Coatney, "Subsidy Incidence in Factor Markets: An Experimental Approach." Journal of Agriculture and Applied Economics 45(2013):17-33.
Download
Conducted at the University of Wyoming, Department of Agricultural Economics
Yang, R., K. Coble, and D. Hudson. "Using Experimental Economics to Evaluate Alternative Subjective Elicitation Procedures." Applied Economics 43(2011):1729-1736.
Download
Coble, K.H. and J.L. Lusk. "At the Nexus of Risk and Time Preferences: An Experimental Investigation." Journal of Risk and Uncertainty 41(2010):67–79.
Download
Shogren, J., G. Parkhurst, and D. Hudson. "Experimental Economics and the Environment: Eliciting Values for Controversial Goods." Agricultural and Resource Economics Review 39(2010): 139-150.
Download
Lusk, J. and D. Hudson. "Bargaining Over Losses." International Journal of Game Theory 12:83(2010).
Download
Nalley, L. and D. Hudson. "A Two-Step Auction in the Presence of Negative Values." Journal of Food Distribution Research 40(2009): 47-56.
Download
Yang, Z., K. Coble, and D. Hudson. "The Role of Individual Personality Type in Subjective Risk Elicitation Outcomes." Journal of Risk Research 12(2009):209-222.
Download
Lusk, J.L. and K.O. Coble. "Risk Aversion in the Presence of Background Risk: Evidence from the Lab" in Risk Aversion in Experiments. J.C. Cox and G.W. Harrison (eds). Research in Experimental Economics. Volume 12. Bingley, UK: Emerald, 2008.
Download
Herring, J., J. Martin, D. Hudson, R. Rogers, and L. Nalley. "Consumer Acceptance of 'Farm-Raised' Pre-Cooked Roast Beef." Journal of Food Quality 30(2007): 403-412.
Download
Nalley, L., D. Hudson, and G. Parkhurst. "Consistency of Consumer Valuation Under Different Information Sets: An Experimental Auction with Sweet Potatoes." Journal of Food Distribution Research 37(2006): 56-67.
Download
Lusk, J.L. and K.O. Coble. "Risk Perceptions, Risk Preference, and Acceptance of Risky Food." American Journal of Agricultural Economics 87(2005):393-405.
Download
Nalley, L., D. Hudson, and G. Parkhurst. "The Initial Endowment Effect in Experimental Auctions Revisited: Further Evidence." Applied Economics Letters 12(2005): 59-63.
Download
Hudson, D., K. Coble, and J. Lusk. "Consistency of Risk Aversion Measures: Results from Hypothetical and Non-Hypothetical Experiments." Agricultural Economics 33(2005): 41- 49.
Download
Lusk, J.L. and D. Hudson. "Effect of Monitor-Subject Cheap Talk on Ultimatum Game Offers." Journal of Economic Behavior and Organization 54(2004):439-443.
Download
Hudson, D. and J.L. Lusk. "What You Don't Know Can Cost You: A Web Based Experiment in Price Discrimination." Review of Agricultural Economics 26(2004):392-403.
Download
Lusk, J.L. and D. Hudson. "Willingness-to-Pay Estimates and Agribusiness Decision Making." Review of Agricultural Economics 26(2004):152-169.
Download
Hudson, D. "Problem Solving and Hypothesis Testing Using Economic Experiments." Journal of Agricultural and Applied Economics 35(2003):337-347.
Download
Lusk, J.L. and J.A. Fox. "Value Elicitation in Laboratory and Retail Environments." Economics Letters 79(2003):27-34.
Download
Lusk, J.L. "An Experimental Test of the Commitment Cost Theory." American Journal of Agricultural Economics 85(2003):1316-1322.
Download
Phillips, O.R., D.J. Menkhaus, and K.T. Coatney. "Collusive Practices in Repeated English Auctions: Experimental Evidence on Bidding Rings." The American Economic Review 93(2003): 965-79.
- Conducted at the University of Wyoming, Department of Agricultural Economics
Menkhaus, D.J., O.R. Phillips, and K.T. Coatney. "Shared Agents and Competition in Laboratory English Auctions." American Journal of Agricultural Economics 85(2003): 829-39.
- Conducted at the University of Wyoming, Department of Agricultural Economics
Working Papers
Wilhelms, S.C., K.T. Coatney, A. Rodgers, and A. Chaudhry. "Brinksmanship and the Tragedy of the Commons: An Experimental Investigation of Traditional Pulaar Herders in Africa."
Coatney, K.T., D.J. Menkhaus, and S.L. Shaffer. "Impacts of a Capacity Advantaged Bidder in Common Value Auctions: Evidence from the Laboratory." 2014. Download
Harri, A., K.T. Coatney, K.H. Coble, and W. Wenshaung. "Measuring the Effects of Supranational Governing Structures on Corruption through an Economic Experiment." 2014.
Coatney, K.T., J.M. Riley, and S.E. Head. "The Competitive Implications of Linking Forward Contract Prices to Spot Market Transactions in the Presence of Economies of Size." 2014.
Freeman, M.A., K.T. Coatney, M.A. Freeman, P.J. Allen, M.A. Ciaramella, and M.W. Schilling. "Value-Added Prawns: Consumer Willingness to Pay and Producer Pricing." 2015 Working Paper.