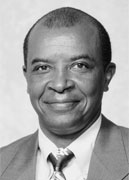 Albert J. Allen
Professor Emeritus
Address: Box 5187, Mississippi State, MS 39762
Office: 301-A Lloyd-Ricks-Watson Bldg., West Wing
Research:
Grain Marketing
Transportation
International Marketing
Society Membership:

Agricultural & Applied Economics Association (AAEA)
Mississippi Agricultural Economics Association(MAEA)
Southern Agricultural Economics Association (SAEA)
Academy of Economics and Finance (AEF)
Transportation Research Forum (TRF)
Publications
Yeboah, O., S. Shaik, S. Wozniak, and A.J. Allen. 2011. Does the WTO increase trade? The case of U.S. cocoa imports from WTO-member producing countries. Journal of Food Distribution Research 42 (2):78-88. Download
Estrado, J., and A.J. Allen. 2010. An evaluation of the impact of the federal rural empowerment zone program on the Lower Rio Grande Valley of Texas. Midwestern Business and Economic Review No. 45:1-6.
Shaik, S., A.J. Allen, S.E. Edwards, J.S. Harris. 2009. Market structure conduct performance hypothesis revisited using stochastic frontier efficiency analysis. Journal of the Transportation Research Forum 48(3):5-18. Download
Yeboah, O., S. Shaik, A.J. Allen. 2009. Exchange rates impacts on agricultural inputs prices using VAR. Journal of Agricultural and Applied Economics 41(2):511-520. Download