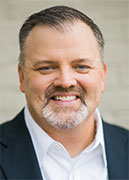 James Barnes
Associate Extension Professor
Address: Box 5187, Mississippi State, MS 39762
Office: 350-B Lloyd-Ricks-Watson Bldg.


Bio:
Dr. Barnes' is an Extension economist. His work largely focuses on business development in communities using his three Extension programs, including: 1) Bricks-To-Clicks™; 2) Local Food System Economies; and 3) Local Flavor.

He is certified marketing guide and copywriter for StoryBrand, an online marketing framework used to help businesses clarify their marketing messages so customers will listen. He teaches online marketing using StoryBrand's framework to businesses throughout Mississippi communities.

His research focuses on branding, online and social media marketing, agribusiness management, local food system economics, and rural development issues.
Education:
Ph.D., University of Missouri
M.S., Oklahoma State University
B.S., Oklahoma State University
Extension:
Branding, online and social media marketing for businesses
Local food system economics
Rural development
Regional economic analysis
Society Membership:
American Agricultural Economics Association
Southern Regional Science Association
National Association of Community Development Extension Professionals
Community Development Society International
Awards:
National Extension Team Award
Delta Leadership Institute
Excellence in Commodity Agriculture Research
Publications
Barnes, J. N. 2020. 5 Social Media Mistakes Your Business Should Avoid: A Step-By-Step Guide to Help You Grow Your Business. Mississippi State University Extension Service.
Barnes, J. N. 2020. Online business education to help your food business grow. Mississippi State University Extension Service Publication P3475. Download
Smith, R. C., J. N. Barnes, A. Collins, L. C. Nickels, R. D. Carter, P. H. Beatty. 2020. Six strategies to strengthen your small business during COVID19. Mississippi State University Extension Service Publication P3444. Download
Barnes, J. N., L. C. Lindley, P. A. Collins, R. D. Carter. 2018. 5 ways to grow your local foods business with Facebook. Mississippi State University Extension Service Publication 3294. Download
Barnes, J., G. Langdon. 2018. Marketing Cooperative Extension organizations and Extension local foods educational programs: A review of online practices across the South. Southern Rural Development Center, Mississippi State University. 40 pp. Download
Carter, R., D., J. N. Barnes, C. L. McDavid. 2018. Local food system development in Mississippi: How local governments can support farmers markets. Mississippi State University Extension Service Publication 3126. Download
Barnes, J. 2017. Bricks-to-Clicks™: Online marketing and economic education for businesses. Mississippi State University Extension Service, Publication 3150. Download
Barnes, J., A. Myles. 2017. Local food system economies: How selected specialty crops contribute to Mississippi's economy. Mississippi State University Extension Service, Publication 3157. Download
Carter, R., J. Barnes, C. McDavid. 2017. Local food system development in Mississippi: How local governments can support farmer's markets. Mississippi State University Extension Service, Publication 3126. Download
Wells, K., J. Barnes. 2017. Local food system economies for Mississippi. Mississippi State University Extension Service, Publication 3164. Download
Barnes, J. 2016. Organizing to use FaceBook advertisements: A planning tool for extension professionals, businesses and communities. Journal of Extension 54(4). Download
Barnes, J., K. Coatney. 2016. Maximizing the economic value from FaceBook marketing in the agrifood system: Boosting consumer engagement through contests. Journal of Extension 54(1). Download
Henderson, J.E., J.N. Barnes, L.L. Falconer, B. Williams, D. Sites. 2016. The economic contribution of agriculture and forestry production and processing in Mississippi: An input-output analysis. Mississippi State University Extension Service, Publication 2962, Mississippi State University. 8 pp. Download
Barnes, J.N., K.T. Coatney. 2015. Progress on broadband adoption in rural America. Choices 30(1)(2015). Download
Collart, A. J., K. W. Hood, J. N. Barnes. 2015. Overview and the economic impact of the Mississippi blueberry industry. Journal of Food Distribution Research 46(1):63-64. Download