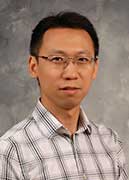 Xiaofei Li
Assistant Professor
Address: Box 5187, Mississippi State, MS 39762
Office: 303 Lloyd-Ricks-Watson Bldg.


Bio:
Xiaofei Li received his Ph.D. in Agricultural Economics from Purdue University in 2015. His main areas of research interest are agricultural production, spatial analysis, and urban & regional development. He is currently working on the precision agriculture project, with a particular emphasis on using GIS data to estimate the spatially explicit optimal input applications in crop production. His other research topics include geography's long-run economic impact, spatial interaction between agriculture and urbanization, food security, and crop insurance. Xiaofei is also teaching the graduate course AEC 8143 Agricultural Production Economics.
Publications
Gregory, E., X. Li, B. J. Parman, K. H. Coble. 2020. Green acres: A study of cropland values in Mississippi. American Society of Farm Managers and Rural Appraisers.
Li, X., Z. Shen, A. Harri, K. H. Coble. 2020. Comparing survey-based and programme-based yield data: Implications for the U.S. Agricultural Risk Coverage-County programme. The Geneva Papers on Risk and Insurance - Issues and Practice 45(1):184-202. Download